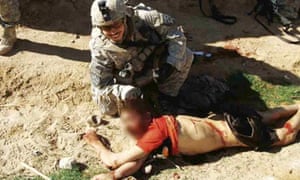 The Taliban relentlessly pressure Afghan soldiers and police to turn and fight the Americans as invaders (and rightly so)
As U.S. forces have shrunk their presence and interaction with regular Afghan soldiers, American airstrikes have reached record numbers, often pounding areas close to where the soldiers come from and sometimes killing civilians. In an age of social media and Taliban news, the news of those attacks spread quickly, and outrage against the American presence rises.
"We were devoid of a fundamental understanding of Afghanistan — we didn't know what we were doing," Douglas Lute, a three-star Army general who served as the White House's Afghan war czar during the Bush and Obama administrations, told government interviewers in 2015. He added: "What are we trying to do here? We didn't have the foggiest notion of what we were undertaking."
"If the American people knew the magnitude of this dysfunction . . . 2,400 lives lost," Lute added, blaming the deaths of U.S. military personnel on bureaucratic breakdowns among Congress, the Pentagon and the State Department. "Who will say this was in vain?"
"All I gotta do now is take Dick Cain and work deals for the CIA and the Outfit … all over the world. … Overseas is where it's all headin', Chuck," Mooney continued. I've got Trafficante on board for Asia. The Vietnam War is gonna make a lot of guys rich."                                          – Mob boss Sam Giancana, speaking in 1966, "Double Cross", 1992 (111)
Israel
You can't understand what's been going on around the world with American covert operations and the Israeli covert operations until you understand that the two countries have this secret arrangement.~ Andrew Cockburn
Just as the U.S. uses its economic and military power, its sophisticated propaganda system and its position as a Permanent Member of the UN Security Council to violate international law with impunity, it also uses the same tools to shield its ally Israel from accountability for international crimes. Since 1966, the U.S. has used its Security Council veto 83 times, more than the other four Permanent Members combined, and 42 of those vetoes have been on resolutions related to Israel and/or Palestine. Just last week, Amnesty International published a report that, "Israeli forces have displayed a callous disregard for human life by killing dozens of Palestinian civilians, including children, in the occupied West Bank over the past three years with near total impunity." Richard Falk, the UN Special Rapporteur on Human Rights in the Occupied Territories condemned the 2008 assault on Gaza as a "massive violation of international law," adding that nations like the U.S. "that have supplied weapons and supported the siege are complicit in the crimes." The Leahy Lawrequires the U.S. to cut off military aid to forces that violate human rights, but it has never been enforced against Israel. Israel continues to build settlements in occupied territory in violation of the 4th Geneva Convention, making it harder to comply with Security Council resolutions that require it to withdraw from occupied territory. But Israel remains beyond the rule of law, shielded from accountability by its powerful patron, the United States.
Since 2001, more than 775,000 U.S. troops have deployed to Afghanistan, many repeatedly. Of those, 2,300 died there and 20,589 were wounded in action, according to Defense Department figures.
The interviews, through an extensive array of voices, bring into sharp relief the core failings of the war that persist to this day. They underscore how three presidents — George W. Bush, Barack Obama and Donald Trump — and their military commanders have been unable to deliver on their promises to prevail in Afghanistan.
With most speaking on the assumption that their remarks would not become public, U.S. officials acknowledged that their warfighting strategies were fatally flawed and that Washington wasted enormous sums of money trying to remake Afghanistan into a modern nation.
"Following its ignoble defeat in Vietnam, America was driven by a reactionary impulse to reassert its global dominance. The justifications used to rationalize Phoenix were institutionalized as policy, as became evident after 9/11 and the initiation of the War on Terror."
The interviews also highlight the U.S. government's botched attempts to curtail runaway corruption, build a competent Afghan army and police force, and put a dent in Afghanistan's thriving opium trade.
The U.S. government has not carried out a comprehensive accounting of how much it has spent on the war in Afghanistan, but the costs are staggering.
Since 2001, the Defense Department, State Department and U.S. Agency for International Development have spent or appropriated between $934 billion and $978 billion, according to an inflation-adjusted estimate calculated by Neta Crawford, a political science professor and co-director of the Costs of War Project at Brown University.
Those figures do not include money spent by other agencies such as the CIA and the Department of Veterans Affairs, which is responsible for medical care for wounded veterans.
"What did we get for this $1 trillion effort? Was it worth $1 trillion?" Jeffrey Eggers, a retired Navy SEAL and White House staffer for Bush and Obama, told government interviewers. He added, "After the killing of Osama bin Laden, I said that Osama was probably laughing in his watery grave considering how much we have spent on Afghanistan."
The documents also contradict a long chorus of public statements from U.S. presidents, military commanders and diplomats who assured Americans year after year that they were making progress in Afghanistan and the war was worth fighting.
Several of those interviewed described explicit and sustained efforts by the U.S. government to deliberately mislead the public. They said it was common at military headquarters in Kabul — and at the White House — to distort statistics to make it appear the United States was winning the war when that was not the case.
"Every data point was altered to present the best picture possible," Bob Crowley, an Army colonel who served as a senior counterinsurgency adviser to U.S. military commanders in 2013 and 2014, told government interviewers. "Surveys, for instance, were totally unreliable but reinforced that everything we were doing was right and we became a self-licking ice cream cone."
John Sopko, the head of the federal agency that conducted the interviews, acknowledged to The Post that the documents show "the American people have constantly been lied to."
The interviews are the byproduct of a project led by Sopko's agency, the Office of the Special Inspector General for Afghanistan Reconstruction. Known as SIGAR, the agency was created by Congress in 2008 to investigate waste and fraud in the war zone.
In 2014, at Sopko's direction, SIGAR departed from its usual mission of performing audits and launched a side venture.
Titled "Lessons Learned," the $11 million project was meant to diagnose policy failures in Afghanistan so the United States would not repeat the mistakes the next time it invaded a country or tried to rebuild a shattered one.
The Lessons Learned staff interviewed more than 600 people with firsthand experience in the war. Most were Americans, but SIGAR analysts also traveled to London, Brussels and Berlin to interview NATO allies. In addition, they interviewed about 20 Afghan officials, discussing reconstruction and development programs.
Drawing partly on the interviews, as well as other government records and statistics, SIGAR has published seven Lessons Learned reports since 2016 that highlight problems in Afghanistan and recommend changes to stabilize the country.
But the reports, written in dense bureaucratic prose and focused on an alphabet soup of government initiatives, left out the harshest and most frank criticisms from the interviews.
"We found the stabilization strategy and the programs used to achieve it were not properly tailored to the Afghan context, and successes in stabilizing Afghan districts rarely lasted longer than the physical presence of coalition troops and civilians," read the introduction to one report released in May 2018.
The reports also omitted the names of more than 90 percent of the people who were interviewed for the project. While a few officials agreed to speak on the record to SIGAR, the agency said it promised anonymity to everyone else it interviewed to avoid controversy over politically sensitive matters.
Under the Freedom of Information Act, The Post began seeking Lessons Learned interview records in August 2016. SIGAR refused, arguing that the documents were privileged and that the public had no right to see them.
The Post had to sue SIGAR in federal court — twice — to compel it to release the documents.