The US government bows to Israel's power like a deity. It freaks me out, to be honest. What is this thing they're bowing to, it's not human!
Bush W handed over the keys to US during the 9/11 Israel coup.  Trump is busy handing over imaginary keys to Israel for whatever they ask for. Nothing he has done for Israel is legally binding. 
"Foreign aid for Israel is sacred, we know that. That is sacred." ~Nancy Pelosi AIPAC 2019
Occupied Syrian Golan
Britain, Washington's closest ally, says Trump's decision is in violation of Resolution 497 that declared Israel's annexation of Golan Heights as "null and void."
UN Declared Jerusalem Decree 'Null And Void'.
Nikki Haley Then Hits UN With This TERRIFYING Message…
#NikkiHaley :"To its shame, the UN has long been a hostile place for the state of Israel. It's a wrong that undermines the credibility of this institution, and that in turn is harmful for the entire world." pic.twitter.com/RNTE3ucWNB

— LAGenie (@lagenie24) April 19, 2019
Section V of the "UN Report of the Special Committee to Investigate Israeli Practices Affecting the Human Rightsof the Palestinian People and Other Arabs of the Occupied Territories"

---
"Since the beginning of the occupation of the Golan in 1967, the Israeli occupation authorities have formulated a settlement plan to alter the demography of the Golan in which, according to the most recent statistics compiled by the Central Bureau of Statistics in Damascus in 1967, between 157,000 and 164,000 Syrian Arab citizens were living at that time either in the town of Quneitra or in the 300 villages and farms, from which they were evicted when all the inhabited areas were razed, with the exception of the villages of Majdal Shams, Ain Qunya, Buq'ata, Mas'ada and al-Ghajar, where the inhabitants held on to their villages and lands in spite of all the repressive practices of the occupation authorities, rejected Israeli identity and resisted the occupation in expectation of the Golan's return to its motherland.
About 23,000 Syrian citizens are currently living in the Arab villages of the Golan, where they are being subjected to various types of repression and violations of the human rights provided for in international instruments, particularly the Fourth Geneva Convention of 1949.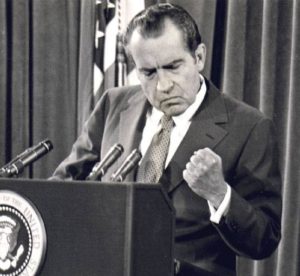 Richard Nixon knew of the illegitimate power of the Jewish establishment, but nevertheless was forced to do its bidding in most important policy areas.
OUR STORY begins on the afternoon of July 3, 1971. We join President Richard Nixon as he is talking to White House aide Charles Colson. Nixon and Colson [who had been discussing anti-administration activities in the Bureau of Labor Statistics] had the following exchange (according to a July 3, 1971, tapewidely publicized on its release by the National Archives in 1999):
Nixon: Well, listen, are they all Jews over there?
Colson: Every one of them. Well, a couple of exceptions.
Nixon: See my point?
Colson: You know goddamn well they're out to kill us.
Nixon: The government is full of Jews. Second, most Jews are disloyal. You know what I mean? You have a [White House Counsel Leonard] Garment and a [National Security Adviser Henry] Kissinger and, frankly, a [White House speechwriter William] Safire, and, by God, they're exceptions.
But Bob, generally speaking, you can't trust the bastards. They turn on you. Am I wrong or right?
Haldeman: Their whole orientation is against you. In this administration, anyway. And they are smart. They have the ability to do what they want to do—which—is to hurt us.
Nixon: There's a Jewish cabal, you know, running through this, working with people like [Federal Reserve Chairman Arthur F.] Burns and the rest. And they all—they all only talk to Jews.
Now, but there it is. But there's the BLS staff. Now how the hell do you ever expect us to get anything from that staff, the raw data, let alone what the poor guys have to say [inaudible] that isn't gonna be loaded against us? You understand?
"Israel is in *our* DNA". Jews make up less than 2% of the American population—yet they have 100% influence over Congressmen, Senators, and Jew-bought Congresswomen like Nancy Pelosi, who serves the interests of the Jews, NOT her American constituency.

The former Democratic president said China was getting ahead of the US because Washington has been at war with other countries for most of its history.
Carter—who normalized diplomatic relations between Washington and Beijing in 1979—suggested that China's rapid growth had been facilitated by government investment and helped by peace.
"Since 1979, do you know how many times China has been at war with anybody?" Carter asked. "None. And we have stayed at war."
The US is 21 trillion in debt. Israel is the only country in West whose credit rating has increased since 2008!
He said the US has only enjoyed 16 years of peace in its 242-year history, making the country "the most warlike nation in the history of the world," Carter said. This is, he said, because of Washington's tendency to force other nations to "adopt our American principles."
Carter said that China, in contrast to the US, had made massive economic progress by maintaining peace with its neighbors. "How many miles of high-speed railroad do we have in this country?" he asked.
The US has "wasted, I think, $3 trillion" on military spending. "It's more than you can imagine. China has not wasted a single penny on war, and that's why they're ahead of us. In almost every way."
"And I think the difference is if you take $3 trillion and put it in American infrastructure you'd probably have $2 trillion leftover. We'd have high-speed railroad. We'd have bridges that aren't collapsing, we'd have roads that are maintained properly. Our education system would be as good as that of say South Korea or Hong Kong," Carter told the congregation.
Carter served as the 39th US president from 1977 to 1981. The former president has been particularly critical of the nation's direction under Trump's leadership.
From Day One
If anyone ever wanted to know why relationships with Israel have seemed strained with Netanyahu in charge, look no further than Bill Clinton.
From the elections to Netanyahu taking over, Clinton was never one to hide how he felt about him, and it was not exactly good.
After taking office, Netanyahu made sure Clinton was aware that he was not the PM's favorite person either.
Clinton described one of their first interactions…
"I realized that he was now the leader of the country and if I wanted to support the peace, I had to find a way to work with him. I wasn't so much angry as I was bemused by the brashness with which he played his hand. But that's who he is. He did a very good job of it."
The manufactured Ilhan Omar controversy :
"I don't have family that is Jewish but the Jew Lieberman's  are my family. I take the hate crimes raising in this country incredibly seriously, and I think what's happening in Europe is really scary and I'm sorry if I'm getting emotional."