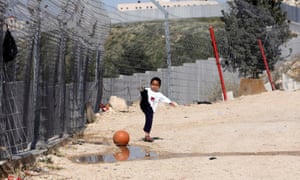 "Netanyahu shows to the world that Israel wants neither an agreement nor a Palestinian state, and for that matter not peace, either." haaretz.com
It's actually well known in the holy land that Israel's "peace process" translates into land grabs and murder, just look at the map. "When Israel talks peace, we store food and water", say the Palestinians.
theguardian.com 2018/jan/26
In one neighborhood of Jerusalem, no one is quite sure who their government is.
The suffocatingly dense district of Shuafat is a Palestinian refugee camp that has grown into a maze of illegally built high-rises, but the Palestinian Authority has no power here.
Israel considers Shuafat under its jurisdiction – its residents pay tax – yet people say the only state presence they feel is when soldiers come in.
Sewage spills on to the road, rubbish burns in old oil drums, and there is no mail system. Few streets have names. Israeli ambulances and fire trucks won't enter.
So for many residents of Shuafat, the closest thing to a government is the United Nations Relief and Works Agency, UNRWA.
The body was set up to help Palestinians uprooted in the 1948 Arab-Israeli war – at the time considered a temporary crisis. In the absence of peace, UNRWA has continued operations for seven decades, running schools, clinics, sanitation efforts and shelters.
But the aid agency is in crisis after Washington targeted its funding. For the residents on the crowded streets of Shuafat, already notorious as the drug and crime center of Jerusalem, an end to UNRWA would mean the collapse of nearly all their infrastructure.